Enterprise Change Management
Managing Change Across The Organization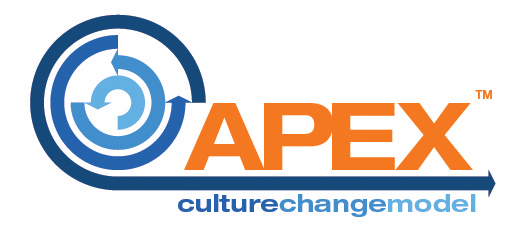 We have worked with numerous organizations to assess their legacy cultures, and develop the kind of unified culture the new organization needs.
As part of helping people recognize the cultural shifts required we have become experts at delivering experiential workshops on integrating cultures that combine powerful insight with practical tools that managers can use in integrating working cultures within their teams.
As a result of our research, and practical application of work with our clients, we have built and tested to success our proprietary culture change model. Rather than use another industry model, we created our own proprietary model that minimizes employee resistance and maximizes employee engagement. In short, our model culture change model targets the human aspect of change.
Our APEX™ Culture Change Model (CCM) is used extensively with our clients in helping projects (change initiatives) meet business schedule and budget objectives through focus on the people side of change including changes to business processes systems and technology job roles and organization structures.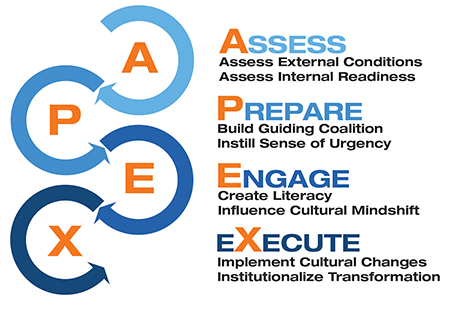 Our APEX™ Culture Change Model (CCM) and companion toolkit are easily adopted by members of client organizations to enable cross-functional success, and support internal project teams by integrating change management activities into their current business operation project tasks.
Our proprietary model helps client organizations to drive faster adoption, greater ultimate utilization, and higher proficiency on the changes impacting employees in the organization such that business results are achieved. Our model works by leaving employees, and the client organization feeling that the change is being made "WITH" and "FOR" them, rather than change being done "TO" them.
Declarative Statement: Prescient Strategists, LLC. does not sell or provide any legal, or financial advice of any kind as we are NOT attorneys, investment bankers, licensed brokers, or licensed dealers.