Value Opportunity Profile® ("VOP®")
The Roadmap To Maximizing Value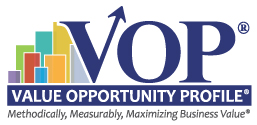 What is the VOP®?
The Value Opportunity Profile® ("VOP®") is a private labeled, cloud-based business assessment and strategic value enhancement platform designed to strengthen companies, prepare them for growth, and maximize long-term value. Developed for advisors of companies with revenues from $5M – $300M, the VOP® can help increase company values by 80% – 100%, independent of revenue and earnings growth, over a 2 – 5 year period.
The VOP® assesses a company across the entire enterprise, providing quality and risk ratings for 47 different categories, a baseline estimate of current business value, a detailed Roadmap of recommended initiatives to maximize future value, and a dashboard to conduct "what if?" analysis, all in a cost-effective, time-efficient tool that can be used in multiple applications.Our Inclusive Leadership™ Institute is an offering targeting those forward thinking organizations that are realizing that they must develop the relevant leadership skills in all their people to help transform the diversity of their global organizations into a competitive advantage.
What are the benefits of the VOP®?
Most Private Business Owners never come close to maximizing business value. The VOP® is a platform that will enable your firm to evolve to the next generation, from being purely retrospective and/or compliance focused to becoming prospective and strategic focused.  We believe most professional advisors leave more than half of their market potential on the table, by not helping companies to understand how to build value, and the VOP® is the platform to help capture that market opportunity.
The VOP® will identify, prioritize, and address the company-specific risks that are depressing value and obstructing long term sustainable growth. Using the VOP® in your client engagement will effectively and efficiently roadmap value improvement initiatives, improving sustainable growth capability and/or transaction/financing outcome.
The VOP® provides a standard process establishing enhanced credibility with your client by way of understanding their business, more comprehensively, beyond accounting and finance functions
The VOP® provides visibility of outcome and ROI for any contemplated initiative, motivating the business owner to take action on implementing improvement initiatives
The VOP® improves client relationships, distinguishing your business reputation, unlocking more client opportunities
Declarative Statement: Prescient Strategists, LLC. does not sell or provide any legal, or financial advice of any kind as we are NOT attorneys, investment bankers, licensed brokers, or licensed dealers. The VOP questionnaire, all VOP report content, and all algorithms used to generate the VOP report are the property of Corporate Value Metrics, LLC. Any use of such information or intellectual property, without the expressed written consent of Corporate Value Metrics, LLC, is prohibited.